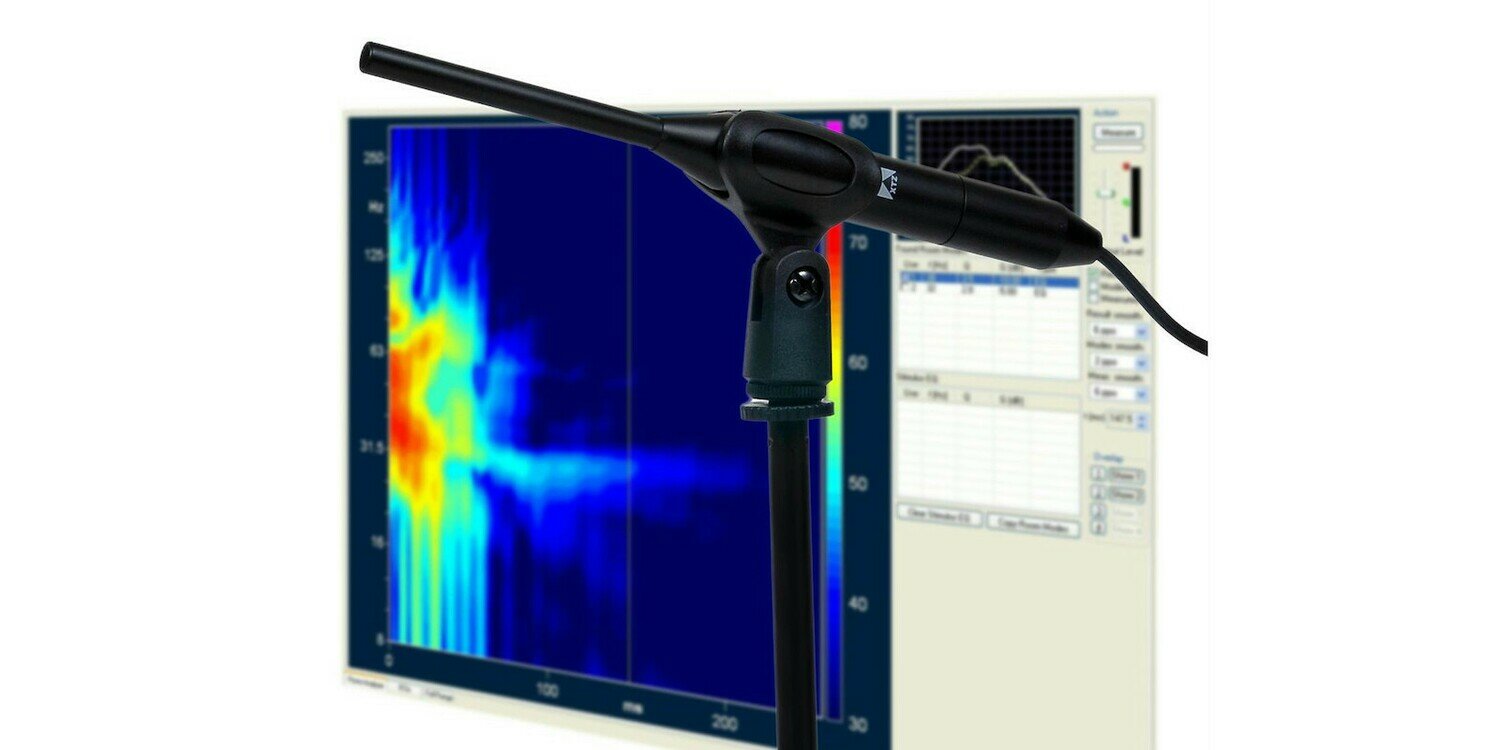 XTZ Room Analyzer II Pro
SKU 10175
XTZ Room Analyzer 2 Pro är ett avancerat system för att mäta rummets akustik. Tolerans ± 1 dB.
Product Details
Verktyg för akustikmätning - XTZ Room Analyzer II Pro
Komplett analyspaket. Levereras i praktisk aluminiumväska!

Videor


Teknisk specifikation:
* Enkelt att använda
* Room Analyzer
* RTA Real Time Analyzer
* Frekvensresponsmätning
* Avklingningstid/spektrogram
* SPL - Fullfrekvensmätning
* SPL Topp och medelvärdesmätning
* Tongenerator med ett brett urval av olika utsignaltyper


Övrigt:
* Hög precision elektretmikrofon
* Tolerans ± 1dB
* Mikrofonhus i aluminium
* USB microphonförstärkare i aluminumbox
* XLR-kontakter i aluminium
* Medföljande kablar
* Mikrofonstativ ingår
* Aluminiumväska ingår
Mjukvara:
Ny mjukvara (v2.35 beta) med stöd för Windows 10 finns att ladda ner här.

Hemmabio Nr: 12 2011
"Prisvärt verktyg för 2500:- kan man ej begära mer"
Stereophile Nr 5/2012
"In every way, the XTZ Room Analyzer II Pro
is a better and more useful product
that should be part of the toolkit of any
serious audiophile."
Lätt att använda
Mätsystem är vanligtvis avsedda att användas av för ändamålet utbildade personer, men Room Analyzer II pro är ett avancerat och precist mätsystem som är lekmän klarar av att hantera. Ett självklart hjälpmedel till alla som vill optimera sitt ljud. Oavsett prisklass så har du glädje av ett mätsystem.


Frekvensrespons - Full Range
Visar en exakt mätning för nogrann optimering av ljudet. Den blå linjen visar frekvensresponsen (tre olika upplösningar: Anechoic, Ambient & Raw) medan de röda staplarna visar efterklangstiden i rummet med en oktavs upplösning.)


Real Time Frequency Analysis – RTA
Visar frekvensresponsen på en plats, med 1/3 oktavs upplösning.
Frekvensområde: 16 – 20000 Hz


Room Analyzer
Room Analyzer använder 4 svep för mer noggranna mätresultat och ger en högupplöst mätning i basområdet. Du kan välja 1 mätpunkt eller 3 mätpunkter för en genomsnittlig mätning av hela rummet. Ger info om "Found Room Modes" informerar om funna problem och lämpliga åtgärder med Q-värde, frekvens och Gain. En 2D-graf visar även efterklangstiden. Frekvensområde: 16 – 250 Hz


2D och 3D vattenfallsdiagram
3D och 2D vattenfallsdiagram för analys av efterklang i rummet.
Frekvensområde: 16 – 20000 Hz
Tidsomfång: 0 – 200 ms


Avancerad SPL Meter - ljudtrycksmätare
Exakt ljudtrycksmätning med valbar längd och frekvensviktning. Visar kontinuerlig nivå och maxnivå tillsammans med valda medelvärden.


2D vattenfallsdiagram
2D vattenfallsdiagram för analys av efterklang i rummet
Frekvensområde: 16 – 250 Hz
Tidsomfång: 0 – 200 ms


Delay Alignment
Det nya verktyget Delay Alignment används för att tidskorrigera olika ljudkällor. Genom att mäta tidsskillnaden mellan ljud som kommer från högtalare eller subwoofer kan lämpliga justeringar göras för subwooferns placering eller fas.


Save this product for later
FYNDBÖRSEN
Welcome to us!

We have been on the Internet since 1997. And ever since 1993 we've have had a "regular" store. This translates to decades of experience and extra security and service for you, our customers. Our expertise reach as far back as 1987, which means a cutting edge knowledge that not many of our competitors have.

We always want to offer as safe a purchase for our customers as possible. That is why we have a 2-year national guarantee on most of our brands. With the help of long experience in the industry and our own service workshop, we can provide technical support via email or telephone.

Designed & Built by www.cloudier.com
Powered by Cloudier.site