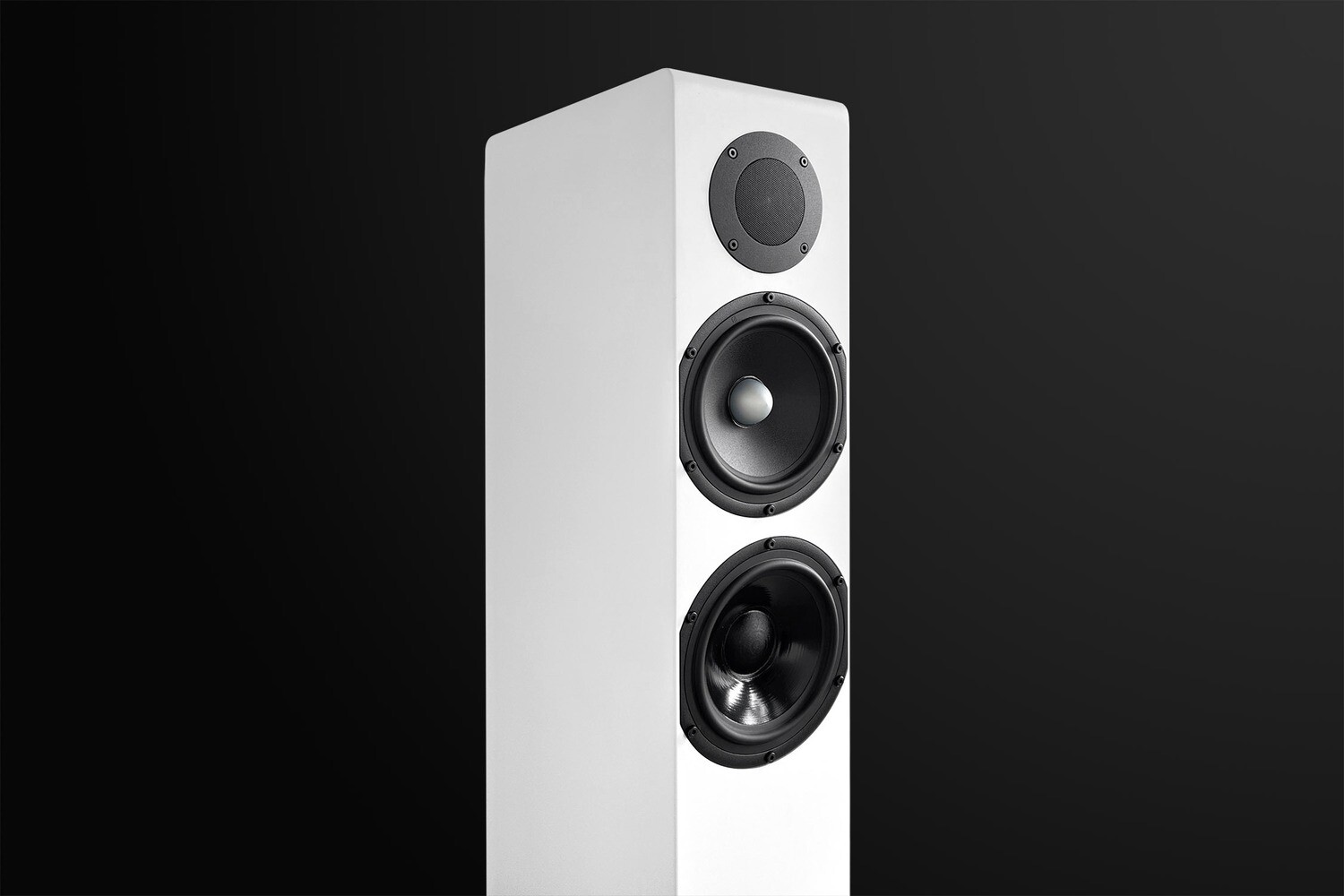 XTZ 99.36 FLR Beryllium Matte White demo
20220
Special edition of 99.36 FLR with SEAS Beryllium tweeter, SEAS Magnesium midrange and a lavish crossover filter
Product Details
Unifaun Parcel Maxweight:
31.5
Denna specialversion av 99.36 FLR baseras på SEAS extrema diskant T29B001, med membran av den exklusiva metallen beryllium. För att matcha prestandan i diskanten används ett specialdesignat delningsfilter med handplockade Mundorf-komponenter av högsta kvalitet. Delningsfiltret är fintrimmat att fungera med det 99-seriens magnesiumbestyckade SEAS Excel baselement när det gäller fas, delningsfrekvens och klang.
Uppgraderingen till beryllium ger generellt:
• Ökad dynamik
• Lägre distorsion
• Större spridning
• Förbättrade fasegenskaper
• Ökad effekttålighet
Berylliumdiskanten har detaljer och skärpa och plockar fram det innersta ur musiken. Under diskanten tar SEAS Excel elementet med kon i magnesium vid samt ett baselement ur SEAS Prestige-serien. Med hög effekttålighet, snabbt impulssvar och låg distorsion så plockar elementen ut djup, detaljerad bas och samtidigt ett avslappnat nedre mellanregister med mycket svärta.
Som vanligt på XTZ högtalare, finns möjlighet att välja mellan sluten eller portad låda med hjälp av baspluggarna som följer med. Välj mellan den slutna lådans raka frekvensgång och rappa återgivning eller portat för fylligare basljud. Valet är ditt! Du kan köra bi-wiring, tri-wiring samt bi-amping, och tri-amping som är sällsynt.

Fronten hålls fast av 6 st starka magneter. Dessa sitter skyddade med gummi så det är ingen risk att lacken på kabinettet skadas. En annan fördel är att fronten automatiskt lägger sig i rätt läge. Fronten hjälper till att skydda högtalaren men utan front får man en ren och stilren design.

Specifikationer
Konstruktionstyp: 2,5-vägs Golvhögtalare
Diskantregister: 1x Berylliumdiskant
Mellanregister: 1x 180mm (6,5") Elektrodynamiskt (Magnesium, naturgummi)
Basregister: 1x 180 mm (6,5") "Långslag" Elektrodynamiskt (Belagd papper-sandwich)
Frekvensrespons: 35 - 40.000 Hz (+/- 3dB)
Nominell impedans: 4 - 8 Ohm
Känslighet: 87 dB (2,83 V/1 m)
Effekttålighet: Kortsiktigt: 550 W, IEC 268-5 | Långsiktigt: 200 W, IEC 268-5
Frontskydd: Magnetisk, Svart
Fötter: 4 x Gummispikar / metallspikar (M6 gänga)
Terminal: Tri-wiring / Tri-amp Redo
Ljudinställningar: Basreflex / Sluten (3 portar), Diskant: Justerbar i 4 olika lägen | Bass: Justerbar i 4 olika lägen
Dimensioner: 202 (270) x 1030 x 320mm (B x H x D) / 8 x 41 x 12.7" (Bredd / Höjd inkl. fötter)
Vikt: 24 kg / 52.8 lbs
Garanti: 5 år
Kvantitet: 1 par
Save this product for later
FYNDBÖRSEN
Welcome to us!

We have been on the Internet since 1997. And ever since 1993 we've have had a "regular" store. This translates to decades of experience and extra security and service for you, our customers. Our expertise reach as far back as 1987, which means a cutting edge knowledge that not many of our competitors have.

We always want to offer as safe a purchase for our customers as possible. That is why we have a 2-year national guarantee on most of our brands. With the help of long experience in the industry and our own service workshop, we can provide technical support via email or telephone.

Designed & Built by www.cloudier.com
Powered by Cloudier.site