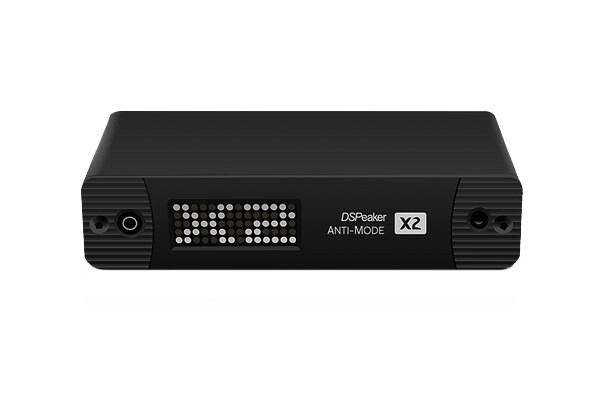 DSPeaker Anti-Mode X2 Demo
20535
Demoexemplar av DSPeaker Anti-mode X2
Product Details
GTIN (EAN):
6430044030307
Unifaun Parcel Amount:
0.2
DSPeaker Anti-Mode X2 är ett kompakt försteg med fjärrkontroll, inbyggd DAC och autokalibrering av subwoofer och högtalare.
Specifikationer
Ingångar
Analog stereo RCA (eller en koaxial digital S/PDIF)
Optisk digital S/PDIF
USB (typ C), USB audio 1.0 stereo, 24-bit 48 kHz / 96 kHz PCM (inga drivrutiner krävs)
Utgångar
Analog stereo RCA
Analog subwoofer RCA
Övrigt
Ingång för mätmikrofon (mikrofon ingår)
IR-mottagare för fjärrkontroll (fjärrkontroll ingår)
USB-port för firmware-uppdateringar
Frekvensomfång (analog till analog): 5 Hz - 22 kHz
Analog ingång: 2,3 Vrms (max), SNR 100 dB, THD (-6 dB nivå) < 0,002 %
Stereoutgång: 2,2 Vrms (max), SNR 107 dB, THD (-6 dB nivå) < 0,0015 %
Subwoofer-utgång: 2,3 Vrms (max), SNR 100 dB, THD (-6 dB nivå) < 0,03 %
Strömförbrukning: i drift 1,5 Watt, i stand-by 0,1 Watt
Vikt: 0,3 kg
Mått (WxDxH): 126 x 80 x 28 mm (djupmått angett utan kablar)
Mätmikrofon och fjärrkontroll ingår
Bruksanvisning (PDF): Ladda ner

Save this product for later
FYNDBÖRSEN
Welcome to us!

We have been on the Internet since 1997. And ever since 1993 we've have had a "regular" store. This translates to decades of experience and extra security and service for you, our customers. Our expertise reach as far back as 1987, which means a cutting edge knowledge that not many of our competitors have.

We always want to offer as safe a purchase for our customers as possible. That is why we have a 2-year national guarantee on most of our brands. With the help of long experience in the industry and our own service workshop, we can provide technical support via email or telephone.

Designed & Built by www.cloudier.com
Powered by Cloudier.site